O.O. Denny Park
Stats: 2.5 mile loop, 420 feet elevation gain
Dogs: Leashed dogs allowed
Pass: No parking pass required
Location: Finn Hill Neighborhood in Kirkland
Address: 12302 Holmes Point Drive NE, Kirkland, WA 98034
O.O. Denny Park, a 30 minute drive northeast of Seattle, is a quiet, secluded park that is a great option when you are short on time and looking for a burst of nature. This 2.5 mile, moderately hilly loop will take you from the waterfront—with restrooms, a playground, pebbly beach, and large picnic area—to a well-groomed trail system winding through a lush ravine. Highlights are a 600+-year-old tree trunk named Sylvia, a trio of beautifully crafted wooden bridges, and the opportunity to enjoy waterfront views from benches and picnic tables in the park.
O.O. Denny Park is named for Orion Orvil Denny, a marine engineer turned business executive in the greater Seattle area. Together with his wife, Helen, they developed a country estate on the northeastern shore of Lake Washington. When Orion passed away in 1916, Helen willed the estate to the City of Seattle, and the O.O. Denny Park opened to the public in 1922. If the name Denny sounds familiar, it's no coincidence: Orion was the son of Arthur A. Denny and Mary Ann Denny, Seattle pioneers who arrived at Alki Point in West Seattle on November 13, 1851.
I like to start the hike from the parking lot on the west side of Holmes Point Drive—the one closest to the water—just because it's nice to finish with a walk and picnic at the beach. Either parking lot will work though, and there is a pedestrian walkway connecting the east side parking lot with the waterfront area.
Starting on the Beach Trail, head northeast over Denny Creek, past a large picnic area. After crossing Holmes Point Drive, you have the choice of continuing on the Lower Loop Trail to the north or the Upper Loop Trail to the south. I prefer starting on the Lower Loop. It's a gentler slope than the Upper Loop Trail, and you get to see neat forest features right off the bat.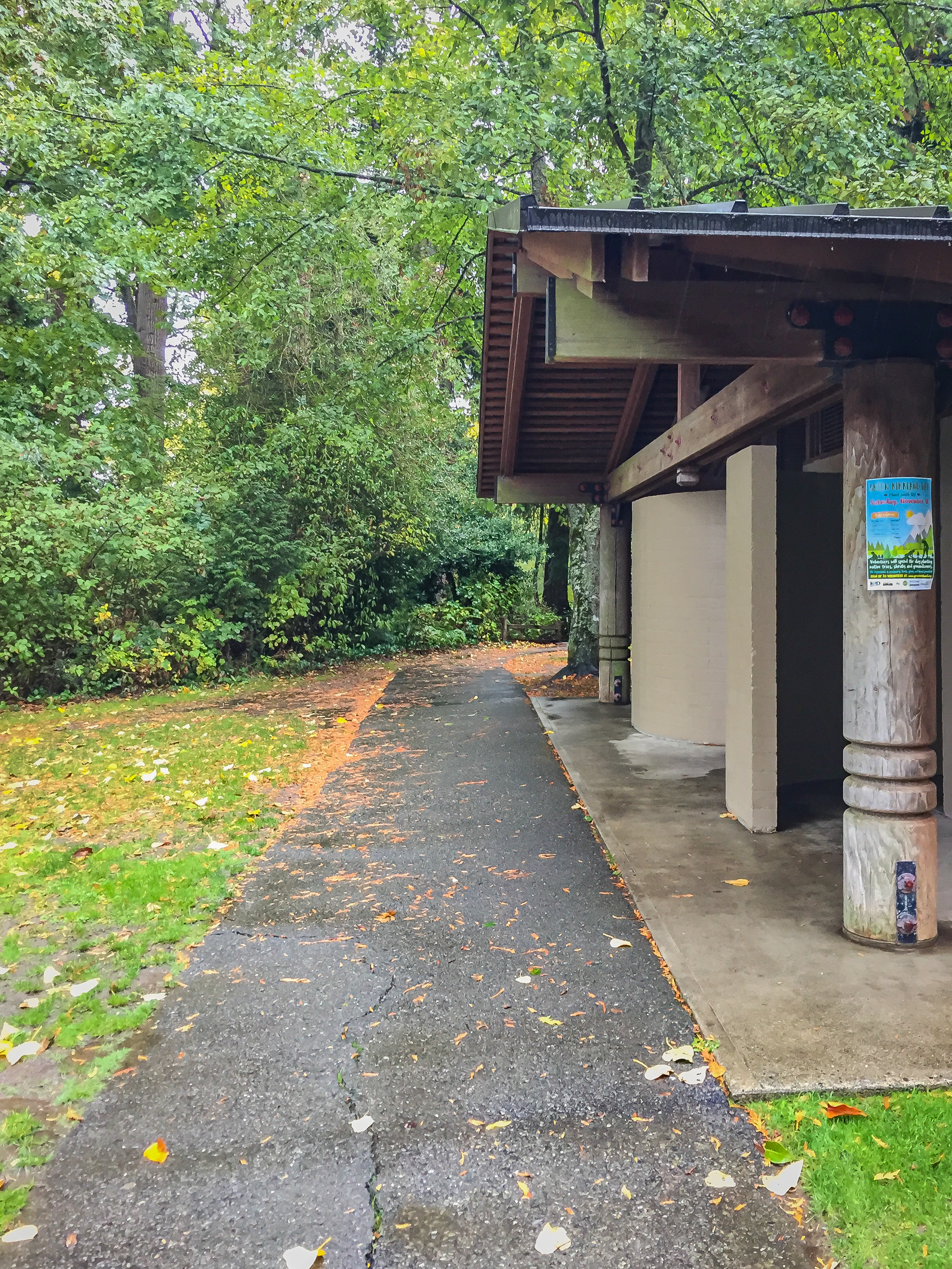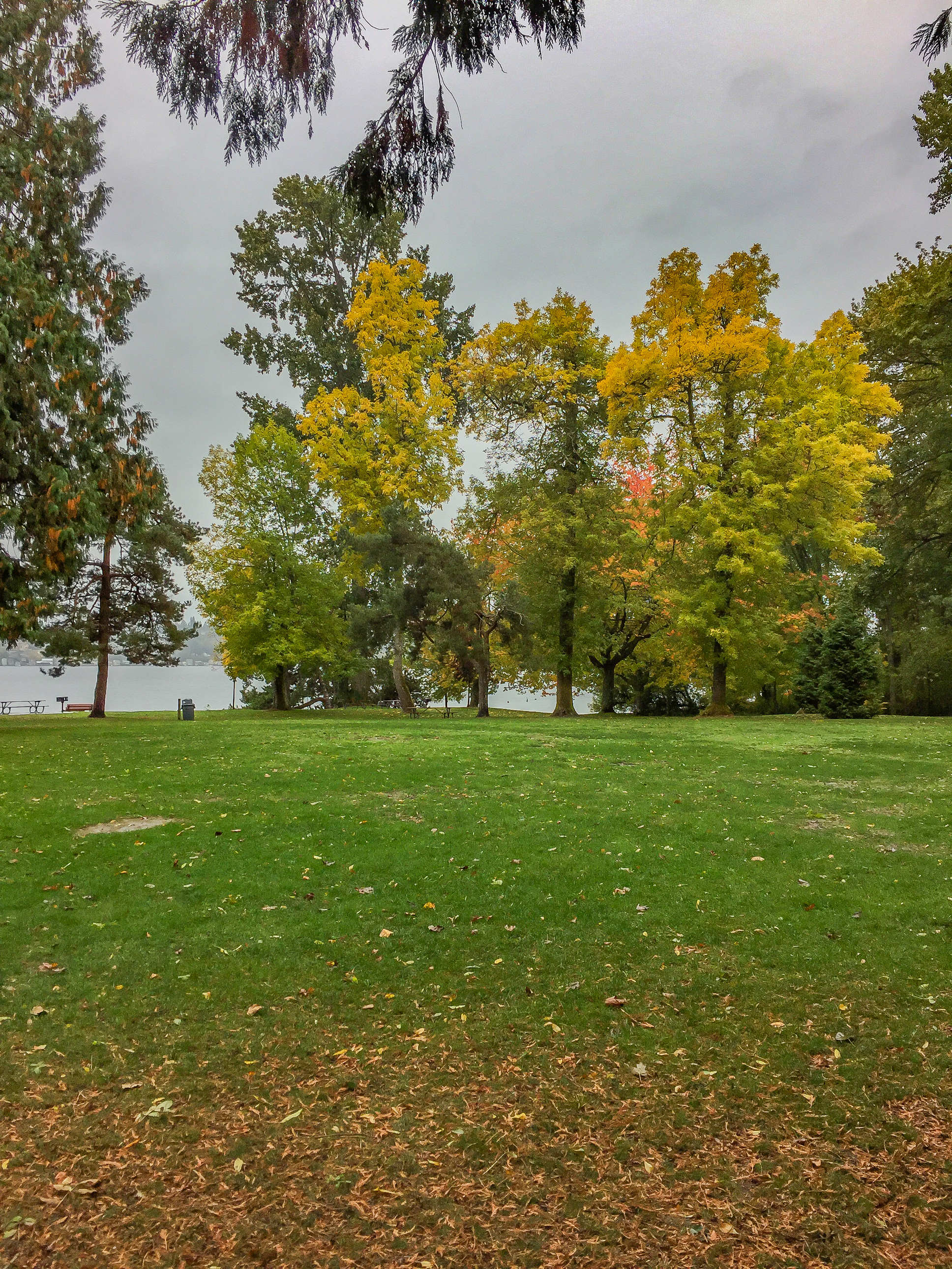 The Lower Loop Trail winds east past tall cedars, a stump with an oval-shaped spring board notch, and Sylvia.
After 0.7 miles, the Lower and Upper Loop Trails intersect. You can turn right here for a 1.5 mile loop, or stay straight onto the Creekside Trail for another 0.5 miles to enjoy a delightful trio of wooden bridges. The last 0.1 miles is a scenic, yet moderately steep, 150 foot ascent to a neighborhood: your turn-around point.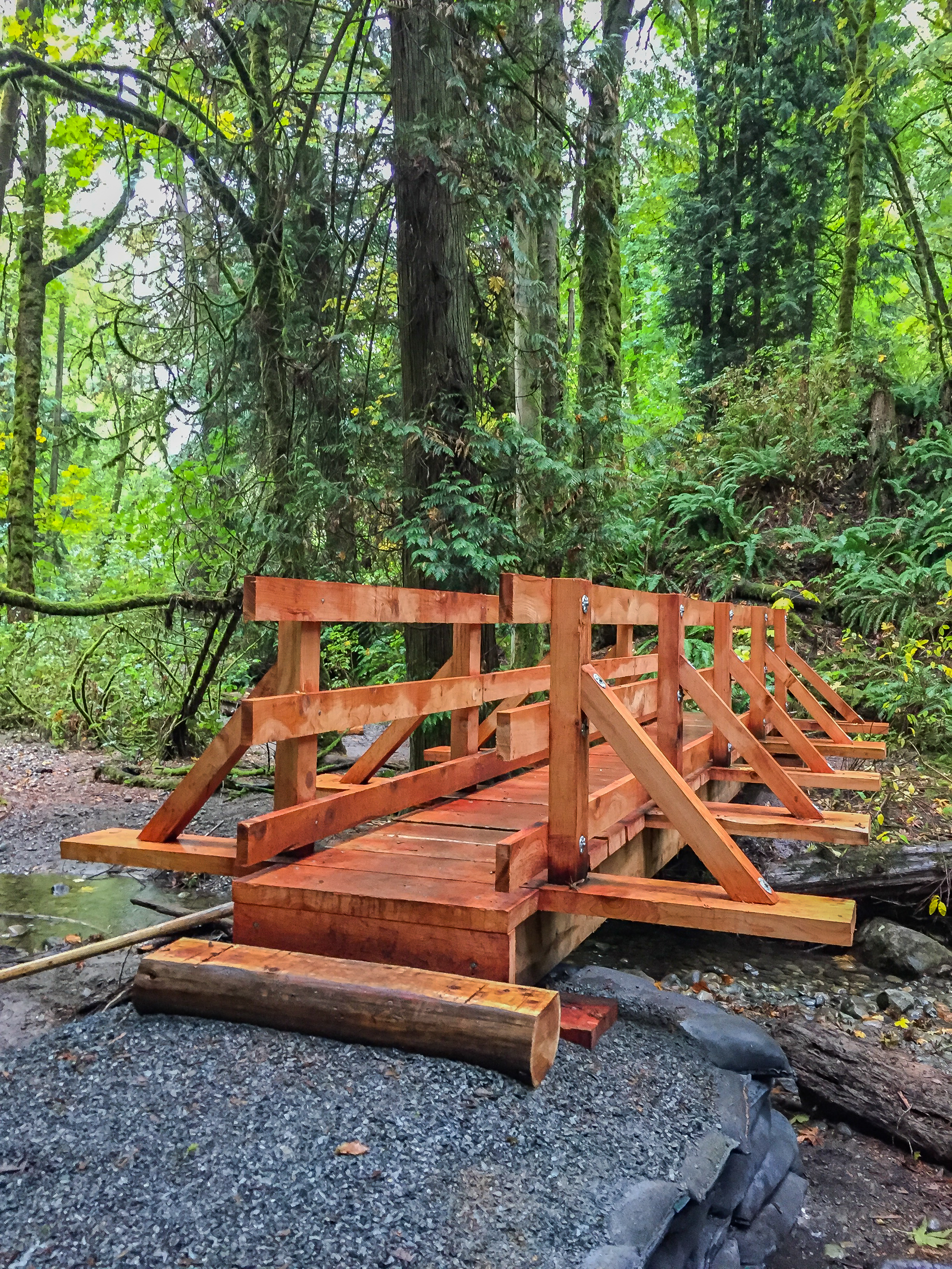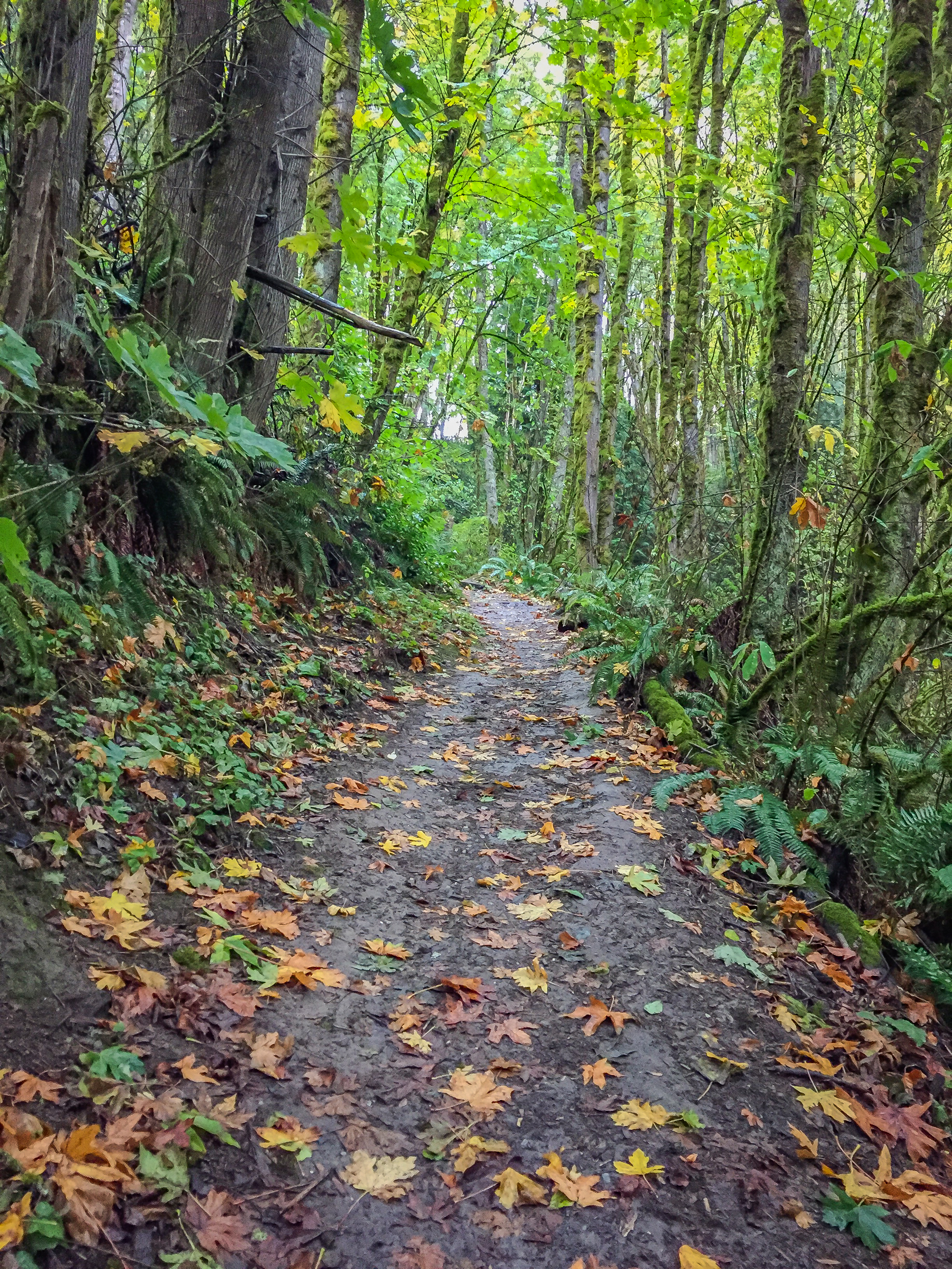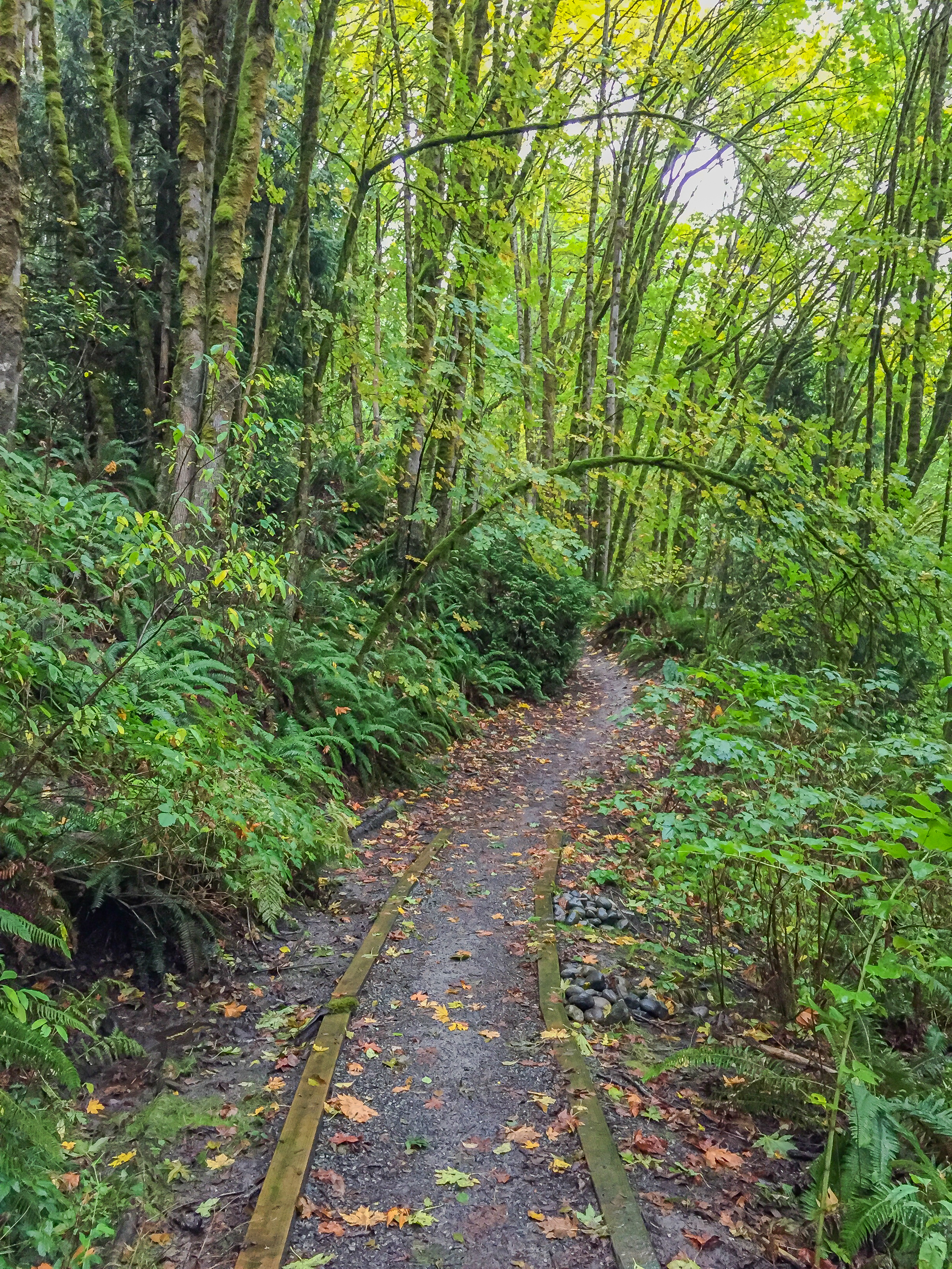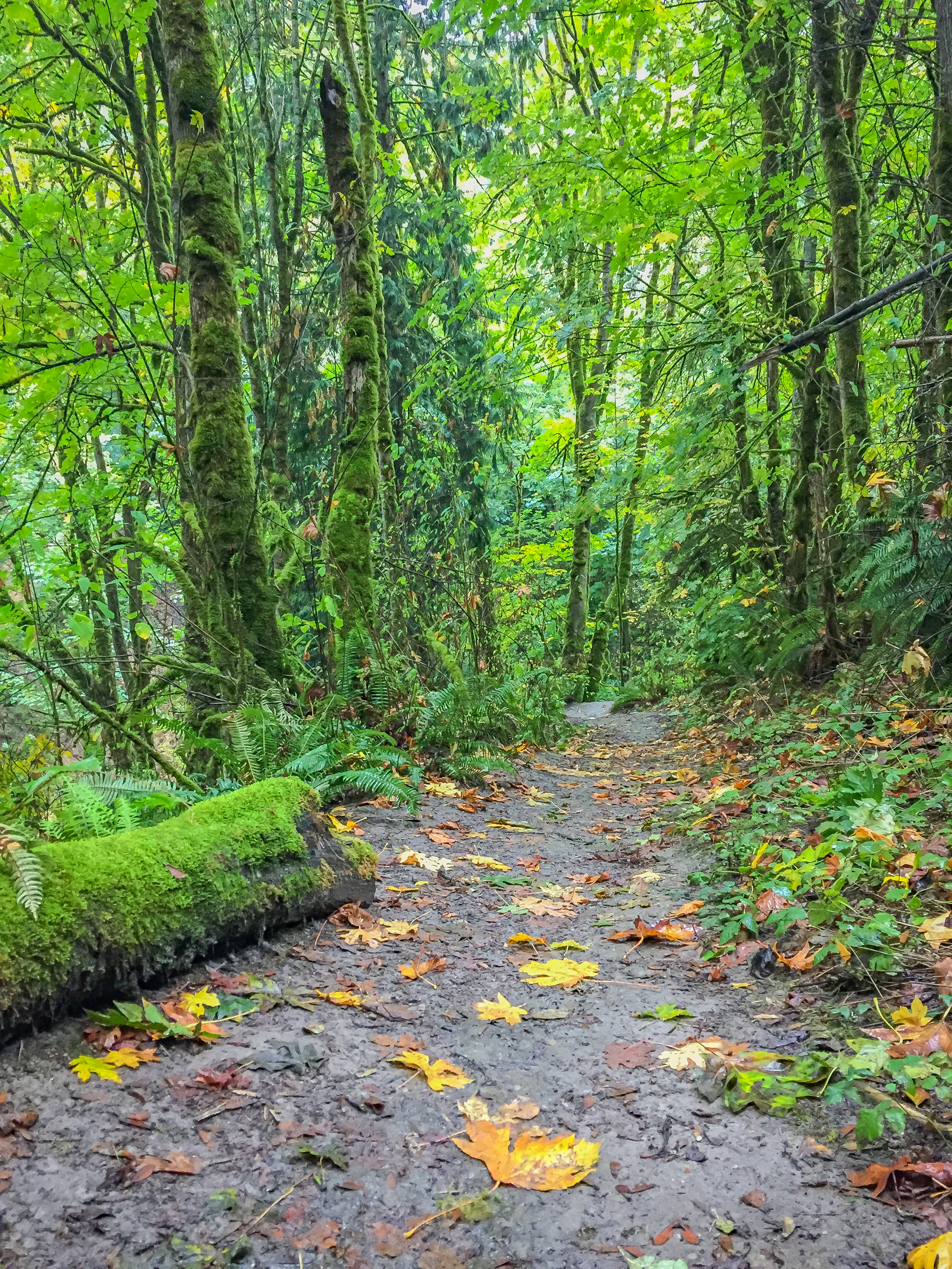 Retrace your steps back at the junction with the Upper Loop and Lower Loop. Then, turn south towards the interpretive sign onto the Upper Loop Trail to cross Denny Creek. A fish ladder was built here in 2001 to help salmon swim upstream to spawn.
Past the fish ladder, ascend 100 feet in 0.2 miles. A neighborhood with houses is straight ahead on 72nd Avenue. Check out this entrance, then backtrack to a slightly hidden park boundary sign marking the continuation of the Upper Loop Trail. Descend southwest to Holmes Point Drive and back to the waterfront.
Even on a drizzly day, O.O. Denny Park is a wonderful, woodsy escape close to Seattle. Enjoy this hidden gem!